Just a few short blocks from the Texas State Capitol, the Smith House was originally built in 1882 by Scottish architect, James Baird Smith.  Smith reportedly salvaged bricks and stones from the capitol that had burned in 1881 to construct the building, making it one of the truly historical buildings in downtown Austin.
The historical marker refers to the Smith-Clark-Smith House in recognition of its owners and their efforts to restore the building.
In 1975 the building, including the carriage house, was designated by the appraisal district as an historical landmark.
Smith-Clark-Smith House 2015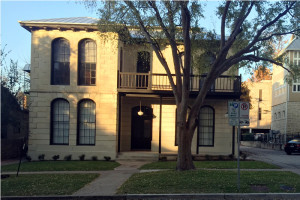 Texas State Capitol – Prior to the burn in 1881
 Texas State Capitol – 1885